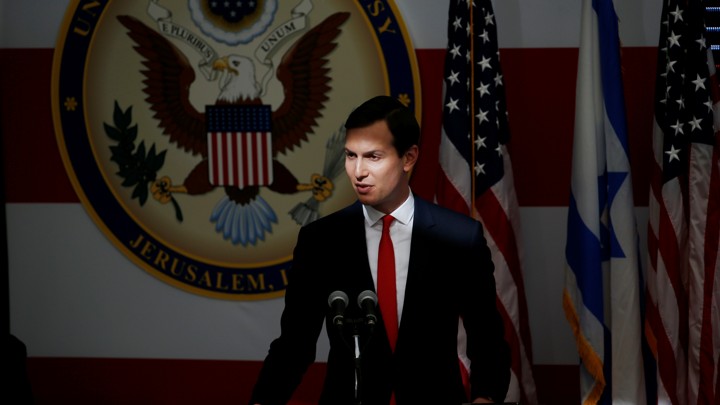 In an interview with a Palestinian newspaper, the president's son-in-law revealed himself to be either strikingly naive — or deeply cynical.
By Philip Gordon and Prem Kumar | The Atlantic | Jun 25, 2018
(Although almost a year old, this article remains well worth reading. — Eds.)
But the reality is that under present circumstances, with the current Israeli and Palestinian governments, at this point the two-state solution is itself a fantasy. Neither the Palestinian nor Israeli people, nor their leaders, are currently prepared for the compromises required for a deal, and accentuating this reality will only make things worse.
Jared Kushner, it seems, is feeling optimistic.
On Sunday [Jun 24, 2018], in his first-ever interview with a Palestinian newspaper, the US president's son-in-law and Middle East peace envoy said that despite appearances to the contrary, "prospects for peace are very much alive" and confirmed that the administration is getting ready to release its long-awaited plan for Israeli-Palestinian peace. Asked how that plan is different from previous efforts, Kushner explained he has done "a lot of listening" and is convinced the Palestinian people are "less invested in the politicians' talking points" than they are in seeing how a deal will improve their prospects for a better life.
Given the serious risks of escalating violence, the desperate humanitarian situation in Gaza, and the continued costs of the status quo, Kushner's desire to move forward even in the face of long odds is understandable. Unfortunately, his interview also revealed that he is living in a fantasy world and preparing an approach more likely to compound the current problems than to resolve them. The assumptions on which he appears to be basing his plan — whatever its precise contents turn out to be — are so flawed that it is fair to wonder if his aim is really to start serious negotiations, or simply to please President Trump's base by gearing up to blame the Palestinian side for the failure to come.