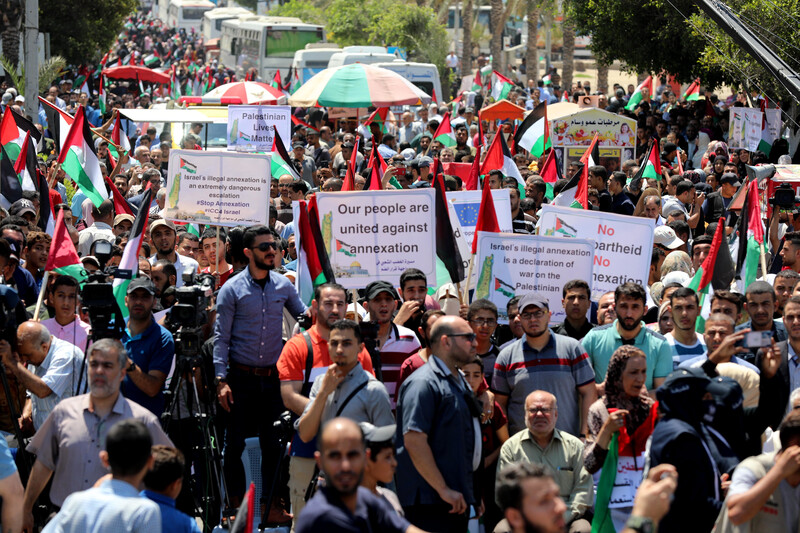 Palestinians rally against Israel's West Bank annexation plans in Gaza City on 1 July. (photo: Ashraf Amra / APA images)
This bill would prohibit U.S. military funding to Israel being used for further annexation of Palestinian land in the occupied West Bank.
By Josh Ruebner  | The Electronic Intifada  |  Aug 17, 2020
This bill is significant because it employs the language of human rights and equality in expressing opposition to Israeli annexation and proposes concrete means of holding Israel accountable should it move forward with annexation.
On Friday, Minnesota Democratic Representative Betty McCollum introduced the Israeli Annexation Non-Recognition Act in the US Congress.
The bill prohibits US recognition of or funding for Israel's potential annexation of additional Palestinian land in the occupied West Bank.
Its original cosponsors are six Democratic representatives: Michigan's Rashida Tlaib, New York's Alexandria Ocasio-Cortez, Massachusetts' Ayanna Pressley, Wisconsin's Mark Pocan, Minnesota's Ilhan Omar, and Indiana's André Carson.
All seven representatives have strong track records of congressional advocacy for Palestinian rights – though Pressley last year broke ranks with progressives and voted for a resolution condemning the boycott, divestment and sanctions movement.