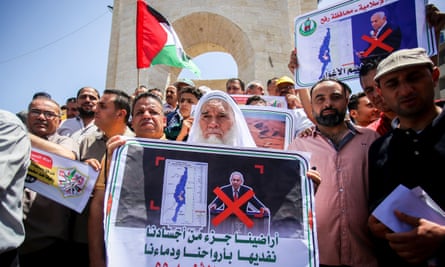 Benjamin Netanyahu's threat will end hopes of a two-state system and probably result in expulsions and violence.
By Ian Black | The Guardian  | June 11, 2020
If annexation of any territory goes ahead it will flagrantly breach international law and countless UN resolutions. It cannot go unanswered. Israel should face sanctions, just as Russia did when it annexed the Crimea from Ukraine.
Unsurprisingly, Benjamin Netanyahu has now made things starkly clear. On 28 May the Israeli prime minister explained that when – not if – his government goes ahead with unilateral annexation of parts of the occupied West Bank, thousands of Palestinian residents would be granted neither citizenship nor equal rights.Palestine says it will declare statehood if Israel annexes West Bank
Shortly before that, a group of Israeli settlers posted a photograph of themselves gazing at a map of what they, like Netanyahu, call by the biblical names of Judea and Samaria, prompting comments from Palestinians – and liberal Israelis – that the image captured the institutionalization of a formal apartheid system. It is hard to argue with that conclusion.
Netanyahu made his statement after three deadlocked elections enabled his Likud party to finally form a coalition with his former rival, the centrist Blue and White leader Benny Gantz. Under their agreement, from 1 July, in coordination with the US, steps will be taken to formally annex illegal Israeli settlements and the Jordan Valley.