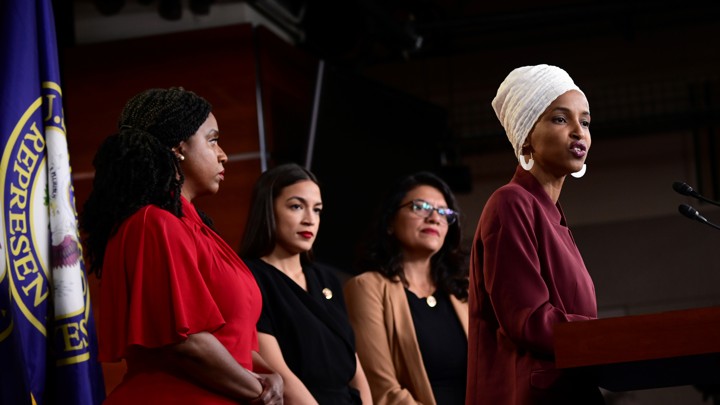 This reflects Israeli's intense fear of the BDS movement, and its growing intolerance for dissent from within or outside of the country.
By Emma Green | The Atlantic | Aug 15, 2019
I'm calling this like I see it: bigoted, short sighted and cruel. Any leader committed to advancing democracy would welcome with open arms two democratically elected United States Congresswomen. And every single member of Congress should be calling this out.
— Rep. Ayanna Pressley (D-Mass.)
The trip was always going to be bad PR for Israel. Representatives Rashida Tlaib of Michigan and Ilhan Omar of Minnesota planned to lead a visit to Israel and the Palestinian territories, meeting with "people in the refugee camps," "people at checkpoints," and "people who lost their lands and had their homes demolished," as James Zogby, the head of the Arab American Institute, told the website Jewish Insider. No matter what, these kinds of photo ops from two of the U.S.'s most outspoken and visible critics of Israel would have provided powerful ammunition to the country's opponents.
This morning, Israel handed its critics even more powerful material. According to Reuters, the government has barred Tlaib and Omar from entering the country.
This move is not unprecedented. In recent years, Israel has routinely detained, and in some cases refused entry to, foreign visitors associated with the Boycott, Divestment, and Sanctions movement, which calls on governments and companies to put economic pressure on Israel. This policy reflects the current Israeli government's intense fear of the BDS movement, and its growing intolerance for dissent from within or outside of the country. But in the past few years, the Israeli government has had a new ally encouraging and enabling its antidemocratic instincts: President Donald Trump. At every turn, the tight alliance between the Trump administration and the Netanyahu government has facilitated Israel's drift to the right, further widening the gap between Israel and many of its Jewish allies in the United States. . . .
It is not clear whether the Trump administration actually worked behind the scenes to influence the Israeli government's decision on this issue, or whether Israel acted specifically because Trump spoke out. It is entirely possible that the Israeli embassy would have preferred to let the congresswomen's trip pass quietly, without any official acknowledgment. But with Trump's prompting, the country fell back into an established pattern of banning its critics from entering the country.
In the past few years, Israel has turned away a Columbia University professor, leaders in the Presbyterian Church (U.S.A.), and an American student. It has also detained Israel critics such as the Atlantic contributor Peter Beinart for extensive questioning, even though Beinart self-identifies as a Zionist. Last year, the government released a list of 20 international organizations that would be banned for their alignment with the BDS movement, including the American group Jewish Voices for Peace.