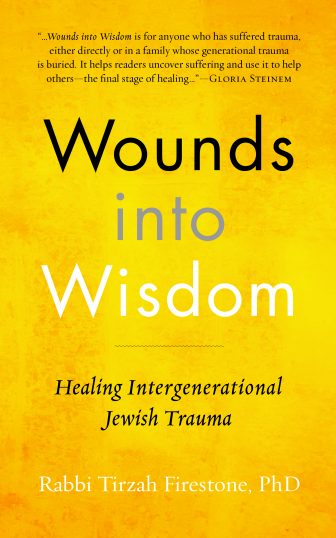 A look into the consequences of extreme trauma and ways it is possible to become free of this trauma legacy.
By Martha Sonnenberg |  Tikkun  |  Mar 22, 2019
Trauma changes us in permanent ways. But we have a choice about the outcome of our story.
— Rabbi Tirzah Firestone
When I finished reading this illuminating new book, Wounds into Wisdom, by rabbi and psychotherapist Tirzah Firestone, I was struck by what incredibly complex and wondrous beings we humans are. Rabbi Firestone's book is a beautiful tribute to that wonder and complexity, just as it is a comprehensive look at what is now known as traumatology — a field of social research that has evolved because of the ubiquity of trauma, tragedy, and catastrophe characterizing human experience over the past century. But Tirzah Firestone's book is unique in the way she looks at the meaning of traumatic experience. Through the lens of her own compassion and empathy she sees real people, not as passive products of their traumatic circumstances, but as active agents of their own healing from trauma. This is not a mere self-help book, although it will be extremely helpful to those who have suffered traumatic events, but more importantly it leads all of us to consider the ways in which we and others are affected by trauma, and what this may mean for healing the world, for tikkun olam.
Firestone makes her case through the use of stories, interviews with people, and honest and open revelations of the trauma in her own family. Her mother was a Holocaust survivor, and her father became fanatically Orthodox after witnessing the horror of the concentration camps as an American soldier at the end of World War II. Her parent's traumatic experience was transmitted to, and psychologically internalized by, their children. This legacy of trauma also led to the subsequent deaths of her two older siblings, Danny, from suicide, and Shulamith, author of the feminist book, The Dialectic of Sex (1970), from the ravages of mental illness. It was Shulamith's death that brought to her younger sister, Tirzah, the "terrible gift" which became the impetus to further investigate the inner workings of the legacy of trauma in herself and others. This book is then both a labor of love as well as an intellectual tour de force.
The subtitle of the book, Healing Intergenerational Jewish Trauma, refers to the particular Jewish experience of trauma in the 20th century. This experience includes primarily the Holocaust, but also the anti-Israeli attacks, with resultant military and civilian deaths, as well as what seem to be rising acts of anti-Semitism worldwide. One of the important points she makes here, drawing on the new science of epigenetics, is that trauma and its sequelae (dissociation, hyperarousal, isolation/shame, and repetition) are felt not only by those who directly experience trauma, but are passed on to their children, and grandchildren.