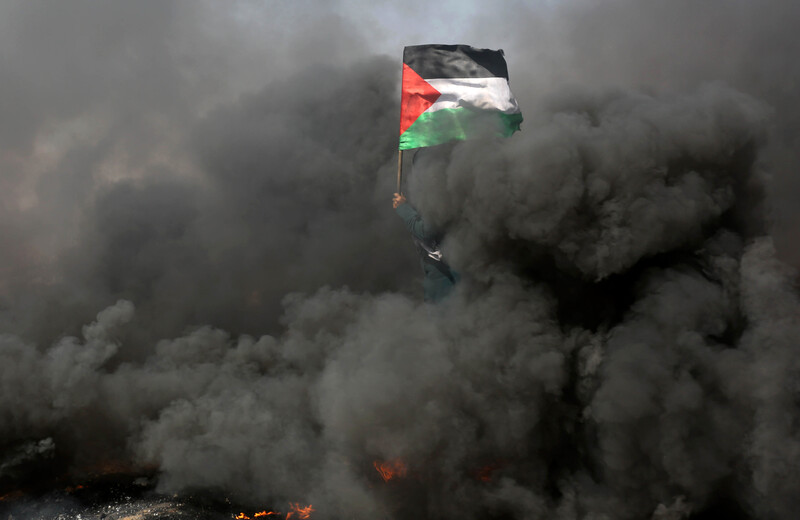 A young man's a blog posting from Gaza.
By Abdalrahim Alfarra | Electronic Intifada | Aug 17, 2018
---
Ali requires further surgery. He is still hoping to move his legs again. He is still hoping to defy the treacherous bullet fired by a heartless sniper, and a world that answers Israel's crimes with shocking silence.
---
I was sitting behind my desk in my family's supermarket in Khan Younis on 14 May when my cousin Ali approached. There was going to be another gathering in al-Faraheen for that day's Great March of Return protest, he said. Would I join him?
"No, I prefer the one in Khuzaa where we usually go," I said.
Ali insisted to go to al-Faraheen and decided he would do so with his friend Saed. He stayed with me until I closed the shop and we went our separate ways. I called my friend Ahmad to go to Khuzaa.
At the protest, we found the usual: tear gas canisters falling thickly, leaving us barely able to breathe or talk; ambulances and paramedics fanning out everywhere; and the sound of live bullets whizzing past. The sound of a bullet elicits contradictory feelings. All of us know that it will hit someone. But if we hear it, we are safe, just like when we hear shelling it means it has exploded but not on us.
Then my phone began to ring. I saw my brother's name on the screen. Before I had a chance to say anything, he urged me to come to the European Hospital, "Now! Ali was shot."
I started running without thinking. Ahmad followed and we rushed over to the hospital in a taxi. There we made our way through the crowds, the screams, the blood on the clothes and beds, the men and women weeping.
"Ali Firwana?" I gasped to the woman behind the reception desk.
"Second floor in surgery," she replied.
The whole family, Ali's friends and everyone, were there waiting, fearful and worried. Time seemed to speed up. Everything moved fast. The paramedics came through with wounded people on stretchers, bustling from room to room. A doctor would appear at regular intervals urging people to give blood. "We need blood! Those who can donate blood, follow me please!"
We had already donated but they never stopped asking.