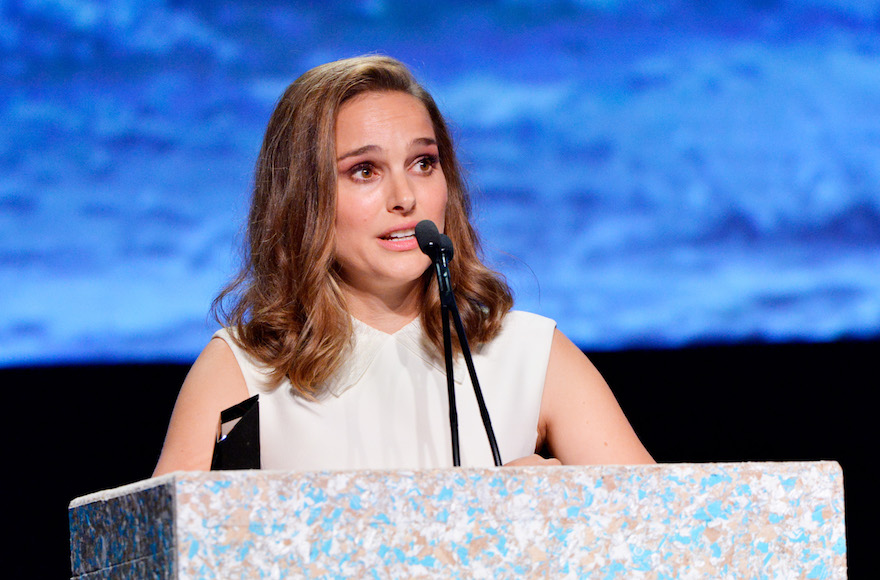 It's about Netanyahu.
By Staff | Jewish Telegraphic Agency | Apr 20, 2018
---
"Like many Israelis and Jews around the world, I can be critical of the leadership in Israel without wanting to boycott the entire nation. I treasure my Israeli friends and family, Israeli food, books, art, cinema, and dance. Israel was created exactly 70 years ago as a haven for refugees from the Holocaust. But the mistreatment of those suffering from today's atrocities is simply not in line with my Jewish values. Because I care about Israel, I must stand up against violence, corruption, inequality, and abuse of power."
— Natalie Portman
---
Natalie Portman said she wouldn't attend a prize ceremony in Israel because of her feelings about its prime minister, Benjamin Netanyahu, and "atrocities" committed on his watch, but emphasized that she would not shun Israel itself.
The Jerusalem-born director and actor, posting Friday night on Instagram, explained her decision not to accept in person the $2 million Genesis Prize, which calls itself the "Jewish Nobel," after a day of speculation in the media that she was turning down the prize because she was joining the movement to boycott, divest from and sanction Israel. The prize foundation had the day before announced Portman's decision not to attend the ceremony.
"I chose not to attend because I did not want to appear as endorsing Benjamin Netanyahu, who was to be giving a speech at the ceremony," said Portman, who in 2011 won a best actress Oscar.
"By the same token, I am not part of the BDS movement and do not endorse it," Portman said.
She did not explain what she was referring to by "atrocities." Israel has drawn sharp criticism in recent months for confrontations with Palestinian protesters on its Gaza border. Israeli troops have killed over 30 Palestinians and wounded hundreds. Israel says the protesters are not peaceful and have tossed rocks and explosive devices at troops.